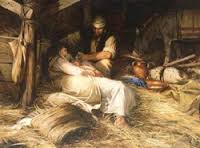 Ever been rejected? Outright, in-your-face rejection? It hurts. It scalds. It stings. When I was in college, I pledged a fraternity my sophomore year with high hopes of joining. I had two close friends who were members, and they really wanted me to be a part of it. But as the pledge process continued, the fraternity at some point voted on whether or not to accept each pledge. I was rejected. I remember feeling as if I had been punched in the chest. I blew it off as if it didn't really matter, but that was just my way of coping. Deep inside, it solidified a pattern that I felt for years: I am the one on the outside never allowed in.
We all have our stories of rejection, from playground taunts to dating break-ups. The sting of them can now help us understand one of the great truths of Christianity: the rejection of Jesus. It began before he was even born with Joseph and Mary being turned away at the inn, necessitating labor and delivery in a cave used for animals. But the most piercing rejection (and perhaps the saddest verse in the New Testament) can be found in the opening verses of the Gospel of John. Here John paints an epic picture of the Son of God before His actual birth: He was the Word, the exact communication of what the Father was like; He was the agent behind creation, stamping His fingerprint on all matter; He was the brilliant light to all men, overcoming and conquering the darkness. With such a spectacular biography, the next description of Him strikes like a death blow:
"He was in the world, and the world was made through him, yet the world did not know him. He came to his own, and his own people did not receive him" (John 1:10-11).
The Creator comes into the world and is not recognized by His creatures. The King of Israel comes home to His people and is not accepted by them. It is tragic, crushing, unthinkable, yet it happened. This is the rejection of the Incarnation of God in Jesus, the rejection of all that Christmas celebrates.
Think for a moment about what Jesus must have felt. Put yourself in His shoes. What would it be like to come home and have the door slammed in your face? What would it feel like to walk into your workplace and have everyone avoid you? Think of the sting He felt, the haunting hurt, the unremitting pain. The Incarnation begins with the joy of the angels and ends in the joy of the resurrection, but in between is this bruising and incalculable rejection. What does this have to do with our Christmas celebrations? Here is one answer:
To enter the joy of Christmas, we must also enter its sadness. I suggest this may be why we often don't enter this joy or why our holiday joy feels superficial, airy, and easily blown away. The deep joy of the angels at His birth and the disciples at His resurrection comes by walking through the tunnel of sadness over how sin has warped everything.
I have one suggestion for you this Christmas. Take some time to be still with the living Christ. Try to feel what He may have felt as He was misunderstood, rejected, beaten, and killed. Read John 1:10-11, but make sure you finish with verse 12: "But to all who did receive him, who believed in his name, he gave the right to become children of God." Our acceptance of Him is not just joy for us as God's children, but joy for Jesus as well. Try to imagine how He may feel as One finally understood, accepted, and received.
Here is the true magic of this season, the true joy of Christmas. May it be yours this season.
Merry Christmas to all!
Bill