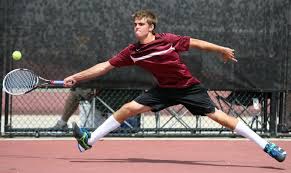 In the eighth grade. I knew I had to shed my geeky mannerisms and enter the world of sports. I was terrified of football and had miserable experiences with basketball, but I discovered I was good in track, a spring sport. Yet I needed to play a sport one other season (a school rule), so I took up tennis in the fall. The summer before, I took lessons and began to play with a vengeance, spending hours on the backboard, hitting serves over and over. That first season of tennis, I didn't make the team, but I was determined and kept at it. By my ninth grade year, I worked harder and began to dream of playing professional tennis. The dream seemed to come to fruition as I made the varsity tennis team even though I was at the bottom of the ladder.
But the season turned out differently. The coach turned out to be a caustic, harsh man who never offered any help, and I kept losing matches I should have won. By my sophomore year, I didn't even make the team. My dream was crushed. Something inside of me collapsed. Without the encouragement of older men, I had no way to make sense of what happened. All I knew is that I felt incompetent, uncoordinated, and uncoachable. The death of this dream was so painful that I ran and shoved it into a closet, labeling it Do Not Enter. Each of us has stories like this: of athletic pursuits that failed, careers that never materialized, loves that weren't returned, marriages that failed, and children that rebelled.
The theme of broken dreams is woven into the gospel story as well. Jesus is tried, sentenced, and condemned to die. During his crucifixion, almost everyone left him. Most of his disciples and the crowds that heard him have all fled out of fear, shock, and grief. They had all pinned their hopes on Jesus. He was a man of such brilliant wisdom and miraculous power, and they came to believe that He was the new Messiah who would throw out the hated Romans and finally restore the glory of Israel as a nation. But it wasn't just the hope for political restoration. So many of these people had grown to love, honor, and respect Jesus. All of this had been shattered by a cruel crucifixion. The dream of restoration seemed trampled forever.
But everything Jesus did was either surprising or stunning, and it is no different here. What had never happened in history before now occurs: He rises from the dead. The dream had not died after all because He rose from the dead to do more than His followers could have ever dreamed of. He didn't come to set up a new rule in Israel, but a new kingdom on earth. He didn't come to conquer the Romans, but the Evil One himself. He didn't come just to heal sickness, but sin and death. The death of their small dream yielded the resurrection of a dream no one could have imagined.
We are to enter the story of Jesus this way with our own dreams. Jesus doesn't deny or dismiss them, and He knows the losses we have experienced. What He asks of us is this: to give our shattered dreams to Him and let Him resurrect them however He chooses. I cannot tell you what He will do or how He will do it, but I can tell you this: His dreams are always categorically larger than ours. If we will choose to forsake control of our lives, we will find our broken dreams somehow renewed and recast in a way we could have scarcely conceived of before. I can attest to this over and over in my own life. He will come and heal our hearts, giving us our deep hearts' desire.
This is the Jesus we serve. He is the Lion on the loose. And when we follow Him, anything can happen.
Anything.