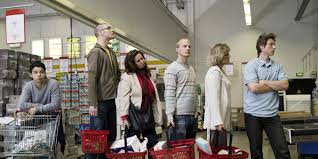 I was at the grocery store last week, returning an avocado that spoiled. As I waited at the return counter, the woman on duty was busy speaking to one of the employees. I was there no more than thirty seconds when I began to feel impatient. After a minute of still being unnoticed, I suddenly left, grabbed a second avocado, and went speedily through an empty check out line to exchange them.
The same kind of thing happens to me when my computer is slow to pull up a new page, but now instead of thirty seconds, I get impatient immediately. Other examples are not too hard to recall: sitting at a long red light or finding out the flight is unexpectedly delayed. Fill in your own stories of waiting in frustration.
These occurrences are usually just blips in our day, but they reveal a deeply entrenched animosity toward waiting. We are incurably impatient. It is an affront to our seemingly important lives and daily agendas. We need to be moving quicker, meeting more deadlines, getting more stuff done.
Take it up one more notch to our perennial impatience with God. Why isn't He answering our prayers more quickly? Why is He not working to take care of injustice and evil?
And then we open the Bible and read this: "For if we hope for what we do not yet have, we wait patiently for it…while we wait for the blessed hope—the appearing of the glory of our great God and Savior, Jesus Christ…Be patient then, brothers, until the Lord's coming." (Rom. 8:25, Titus 2:13, James 5:7)
All throughout the Scriptures, we are being asked to wait on God and His coming Kingdom. It's not a momentary injunction; it's a continual posture of the heart. But I want to suggest that this is not perpetual frustration—it's freedom. Here's what I mean:
Waiting for heaven frees us from compulsively scavenging for contentment here in this life.

The life we long for isn't here…but it's coming.

Waiting increases our awareness of God's presence and the beauty of trusting Him. It's a taste of the lost life of Eden.
Waiting strengthens us to keep fighting evil in ourselves and our world. Jesus triumphed decisively over evil and the Evil One at the cross; we are now waiting for His return and final victory.
So the next time you find yourself fuming at a red light or stuck in a return line, maybe it's a chance to stop and trust—and remember heaven.
It's what we're all waiting for.