Do you need to move beyond boyhood and into manhood?
Come with us to find your guide, own your identity, discover your quest, and move out as a man.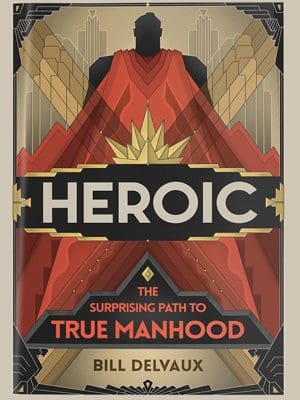 Heroic: The Surprising Path to Manhood
IT'S IN THE MOVIES WE SEE. IT'S IN THE NEWS WE HEAR. IT'S IN THE STORIES WE TELL. EVERY MAN IS STIRRED BY THE HEROIC.
From boyhood, we search for heroes, starting with our fathers. But somewhere along the way, all our heroes disappoint us. And our attempts to be a hero fair no better, leaving us confused and unsure. Yet the heroic longing never leaves us.
What Others Are Saying
"Over the years, I have encountered countless men, young and old, whose lives intersected at some point with Bill Delvaux. The common denominator is that each one of them can trace back to that intersection, and talk about a shift that took place. That shift involved something he said, or some kind of experience with Bill where they were stirred, invited into something bigger and changed in some way. You are about to experience that intersection. Prepare to be invited, stirred and disrupted in the best of ways."
The Mission of Landmark Journey Ministries
There is a crisis in men today. They feel uninitiated without guidance to move beyond boyhood. They feel anonymous without a clear-cut sense of identity. They feel lost without a burning sense of purpose. They feel stuck in patterns that keep them from moving out as men. Landmark Journey Ministries exists to offer training in manhood that is Christ-centered, personal, unique, and trustworthy. Working with us, you will be able to find your guide, own your identity, discover your quest, and move out as a man.